Flower: Snow Berries
Variety: SNOWBERRY ASSORTED 45cm PER STEM
Color: Assorted
Your flowers will arrive in a floral box, wrapped up in a protective paper or plastic sleeve. Once you open the box:
First unwrap the flowers and give them some room to breathe. They've just made a long trip so don't worry if they look like they're a little sleepy- just think of how you would feel after getting off an international flight!
Have a bucket or vase with a few inches of water ready, and remove any foliage on the stems that might fall below the water line.
The next step is to cut the stems with floral shears or a sharp knife about 1 inch from the bottoms. It's always best to cut them at an angle, so that the flowers have even more space to drink from- water is their best friend!
Then, simply place them in the water, and keep them indoors in a cool, dry place away from any heaters, air conditioning drafts, or direct sunlight and you're ready to go! We recommend allowing the flowers to hydrate for at least 4-6 hours before starting to work with them, but the more time the better- typically our customers have their flowers arrive a few days prior to their event in order to give them the opportunity to hydrate and start to open so they can look perfect for showtime!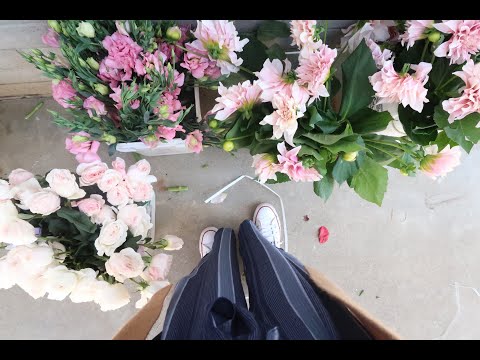 Petal Driven Flower Delivery | Unboxing & Preparing Your Flowers